Domaine de Joreau - Holidays in the Loire Valley - t: +33 618 351 721 - m: info@domainedejoreau.fr
About us & our ideas
The Schewe family
Welcome to this beautiful place, called Domaine de Joreau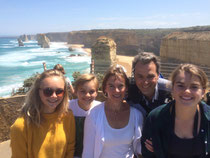 Petra und Jörg are delighted to welcome you at the Domaine de Joreau -  whether you come for one night, several days, a week or even longer. We will tell you everything there is to know about the region, the best restaurants and vineyards.
Relax in the shade of one of our old trees, walk through the huge park or to the nearby lake. Listen to the many different birds and watch out for deers in the morning and evening hours. At the Domaine de Joreau peace & relaxation are guaranteed.
Your children will enjoy to playing with the 2 donkeys, Tarco and Lisette, and our young dog Goya. They can explore the garden, where they'll enjoy the sandpit, the swing, the slide and the big trampoline.      
Our idea of responsible tourism

The respect of nature with all its limited resources has always been part of our daily life. Since our arrival at the Domaine de Joreau we make every effort to renovate and improve the property in a environmentally respectful way. 
The distinction with the label "Nature & Patrimoine" in 2009 shows that we are on the right way. Since then we have changed our heating system from fuel to electricity and wood; we started replacing all windows with double glazing and we don't use chemicals in the garden.
We offer mainly organic, local or homemade products for breakfast and dinner. The towels are not replaced systematically, but you decide when it is necessary. Please, bring your own shampoo and shower gel as we only provide liquid soap in a dispenser. 
How do French Bed & Breakfast work ?
Bed & Breakfast become very popular in France. Since 2008 they have to be registered at the council and are restricted to a maximum of 5 rooms and 15 people. 
The daily rate always consists of "bed" with linen and towels and "breakfast". In many areas there is an additional 'tourism tax'. Each bed & breakfast room must provide access to a bathroom.
In addition to being a host, the owner/operator may provide meals in form of one fixed menu for all guests. Usually everybody sits around the same big table and chats about the highlights of the day.
What is a "Gite" in France ?
A Gite is a self-contained cottage for short term rental, like e.g. holidays, in a rural environment. In order to give you an idea about their standards, they are rated by the regional government by what is generally known as " * " (stars). Since 2011, these criterias have to be the same for all.
A Gite is usually fully furnished and equipped for self-catering. In many cases the owner/operator lives close by in order to provide help, assistance, and a warm welcome to his guests. Most gites are generally very well kept, and a growing number will have excellent facilities such as fully fitted kitchens, en-suite bathrooms, TV, DVD and access to sporting activities. The term "Gite" today describes most forms of holiday cottages and apartments.