Domaine de Joreau - Bed & Breakfast near Saumur - t: +33 618 351 721 - m: info@domainedejoreau.fr
Meals at the Domaine de Joreau
Start the day with a good & substantial Breakfast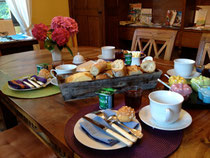 As a Bed & Breakfast we believe that Breakfast is as important as the Bed. Take time to sample, enjoy, chat and relax !
Our challenge is to present you a vast variety of mostly homemade or local specialities:
homemade jams
seasonal fruits
local milk and yoghurt
homemade bread
warm cake
cheese & ham 
...
Breakfast is always included in the daily rates of our bed & breakfast.
End the day with dinner at the Domaine de Joreau ?
Hosted dinner permission PELCH n° UFH/2014-00502 
If you choose to have dinner at Domaine de Joreau, you will join the other guests and sit around one big table. There will be the same seasonal menu for everybody. A selection of Loire wines accompanies the meal. You will discover local products and have a chat with the other guests and your hostess about the things you shouldn't miss during your stay.  
Our dinner consists of an aperitif, a starter, a main course and a dessert. Wine, coffee and tea are included in the rate of 28 €/person. Children up to 10 years pay 12 €, between 11-18, 20 €.
We kindly ask you to reserve dinner at least 48 h in advance,
Minimum booking 4 people,
We do not offer dinner on Thursdays and Sundays.
The whole Schewe Family thanks for your understanding !